The flock of Miserden Texels has its home in the village of the same name, situated high in the Cotswold Hills.
Unrivalled stockmanship and close attention to the breeding line, coupled with an unswerving commitment to produce not only high-quality meat for today's discerning markets, but also top-class breeding stock, have ensured our position as one of the foremost Texel flocks in the country.
Use this site to discover more about us and our products - and feel free to contact us if you have any more enquiries. We would also like to hear from fellow breeders and flockmasters, so please use the contact page or join the mailing list. And don't forget to look at our other interest, too - horses!
LATEST NEWS - OCTOBER 2006
The main Texel flock lambed in mid February and we are delighted with this years crop of lambs. We finished up with some later Texels and the Lleyns.

Miserden Kracker, owned jointly with Meon Valley flock, has left us some lovely lambs. Full of character with smart heads and great substance they really stand out. The combination of the Claybury Junior females tupped by Kracker have been particularly nice. Another nice thing about the Kracker lambs, like the Claybury Junior lambs is that the majority were very easy lambing, in fact the later lambs seemed to come in fairly orderly pairs and the ewes had them without any help from us. Some of course had not read any of the books on presentation and came backwards, upside down or at the same time as their brother or sister but we all get those.
After a successful show season where Miserden Kracker won the senior ram class at the Bath and West and was 2nd at the Royal Welsh we are now rapidly approaching sales. Already a good number of rams have been sold off the farm and we encourage our buyers to see them at home if possible. We still have a number of high Index quality rams for sale, prices ranging from £300 - £600. They are all big strong boys dying to get out with the ladies!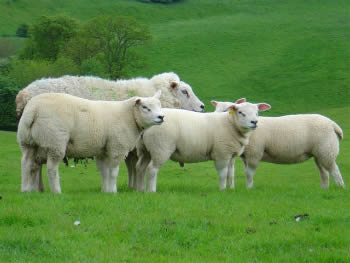 Ewe with lambs by Miserden Kracker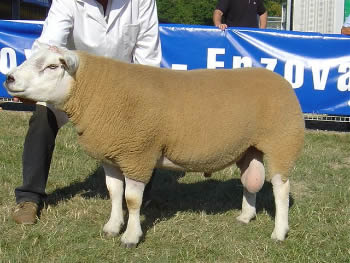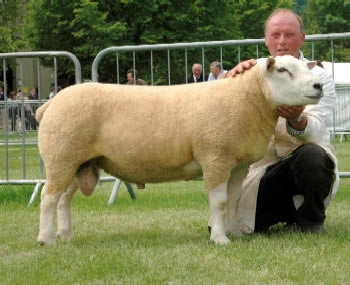 Miserden Kracker by Caron - he is classic. Breed Champion at Three Counties' Show, 3rd in the Recorded Class at the Royal Show, and 1st Prize Shearling Ram at PLT/EBLEX Open Day in Hampshire. He has been retained in the flock with a half-share sold to Drayton Farm Partnership. His index is 245 and he is an impressive shearling with super top line, excellent growth rate and excellent growth rate of muscle.
For more pictures, please click here