Rams and females from the Miserden Texel flock are for sale at the principal English and Welsh Premier Sales. We also sell stock at the NSA main sale, held at Builth Wells, in September.
Our expertise is not limited to the United Kingdom. In March 1999, we exported two rams to St Helena, where they were used to improve the breeding lines of the island's sheep. So pleased were they with the results, that in September 2006 a further three rams were requested!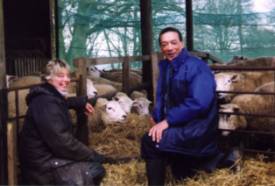 Sue Andrews, pictured with Arthur March of the St Helena Ministry of Agriculture
Stock for Sale - click here to see details
We believe that at Miserden Texels we have something to suit everyone. We have shearling rams and shearling ewes for sale by Penare Flamboyant by Craighead Dynamite, Miserden Gordon by Annan Dazzle, Trannon Heartstopper by Annan Foursquare and Claybury Indiana. All rams and ewes are well grown with good breeding potential.
This year's lambs are by the rams on page two of The Flock. We are incredibly pleased with this year's crop of lambs and, as should be the case, we feel the Miserden flock improves each year. From July onwards we welcome visitors who may be interested in buying stock direct from the farm. During August and September we will be selling shearling rams and ewes and ram lambs at all the major sales. Later in the year we will have a selection of shearling ewes for sale in-lamb to Group One rams.
Later in the year we will have photographs and details of figures for ram lambs and shearlings displayed on the website.
Please feel free to contact us about availability and prices. The prices do cover a wide range and we hope we have stock to suit most buyers including three and four year old stock rams.