Dash of Paint has really come up with the business this year with a very eyecatching coloured colt, Miserden Hidalgo. Born in July, he won't be shown this year, but look out 2007!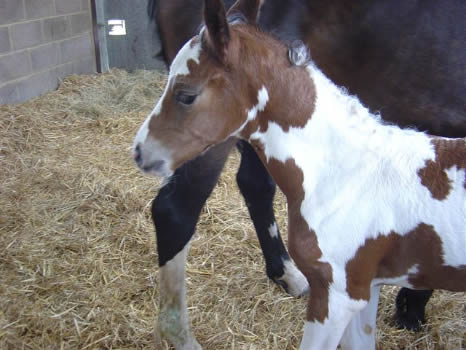 Miserden Hidalgo, out of Dash of Paint by Masterpiece
For next year we have both Dash and Impedimentia, a Weatherbys NTR in foal. Impy is in foal to Miley, a skewbald ¾ TB stallion who has bred a number of good event horses. She has always refused to pass on colour but has lovely foals anyway but we always hope. Dash, the warmblood cross, mother of Miserden Drum Major, Wildfire and Hidalgo is in foal to Masterpiece again.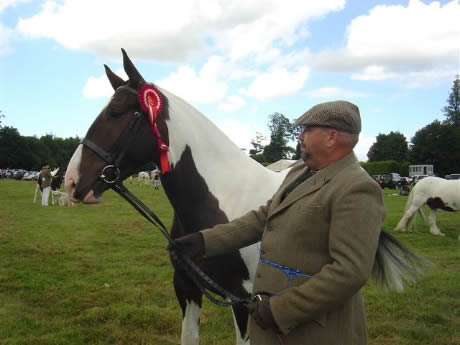 Miserden Drum Major, winning his class at Worcester Lodge
.
We also have a new bay TB mare Amy's Delight, by Idiots Delight and her yearling filly by Midnight Legend. We purchased her quite by chance and were delighted to find out that Amy had also produced a five year old to Midnight Legend, Storymaker, who has run in point to points in the Borders. Unfortunately Amy did not hold to Midnight Legend,so as she is 18 will probably be looking to do some quiet hacking now.
Our present star is Miserden Radetzky, bred out of a lovely TB/Oldenburg mare. He was sold to Mrs Georgie Davies last year, but has still stayed on the farm until three weeks ago when he went to Wendy Bartlett and John Mastin to be produced in hand at a few shows, which he took by storm! At Worcester Lodge he won the youngstock class and went on to be overall champion and then did the same the following week at Bicester and Finmere, each time beating ridden horses who had won at the RIHS. He finished off the summer by attending the Bank Holiday event at the Coloured Horse Championships at Keysoe before returning to his field for the winter.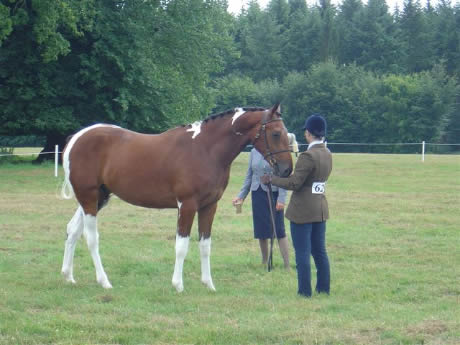 Miserden Radetsky, winning at Worcester Lodge